+44 (0) 118 940 1101 | Mon-Fri: 8am-5pm

Secure Payment:
Worldwide Delivery Service
Ferrari F355 Berlinetta History, Specifications and Spares | GTO Classic Ferrari Parts
Ferrari F355 Berlinetta
Unveiled at the 1994 Geneva Motor Show, the F355 Berlinetta quickly became the benchmark in its class. The increased power of the new 5-valve per cylinder V8 was complemented by a truly exceptional chassis, with extremely efficient, electronically controlled suspension.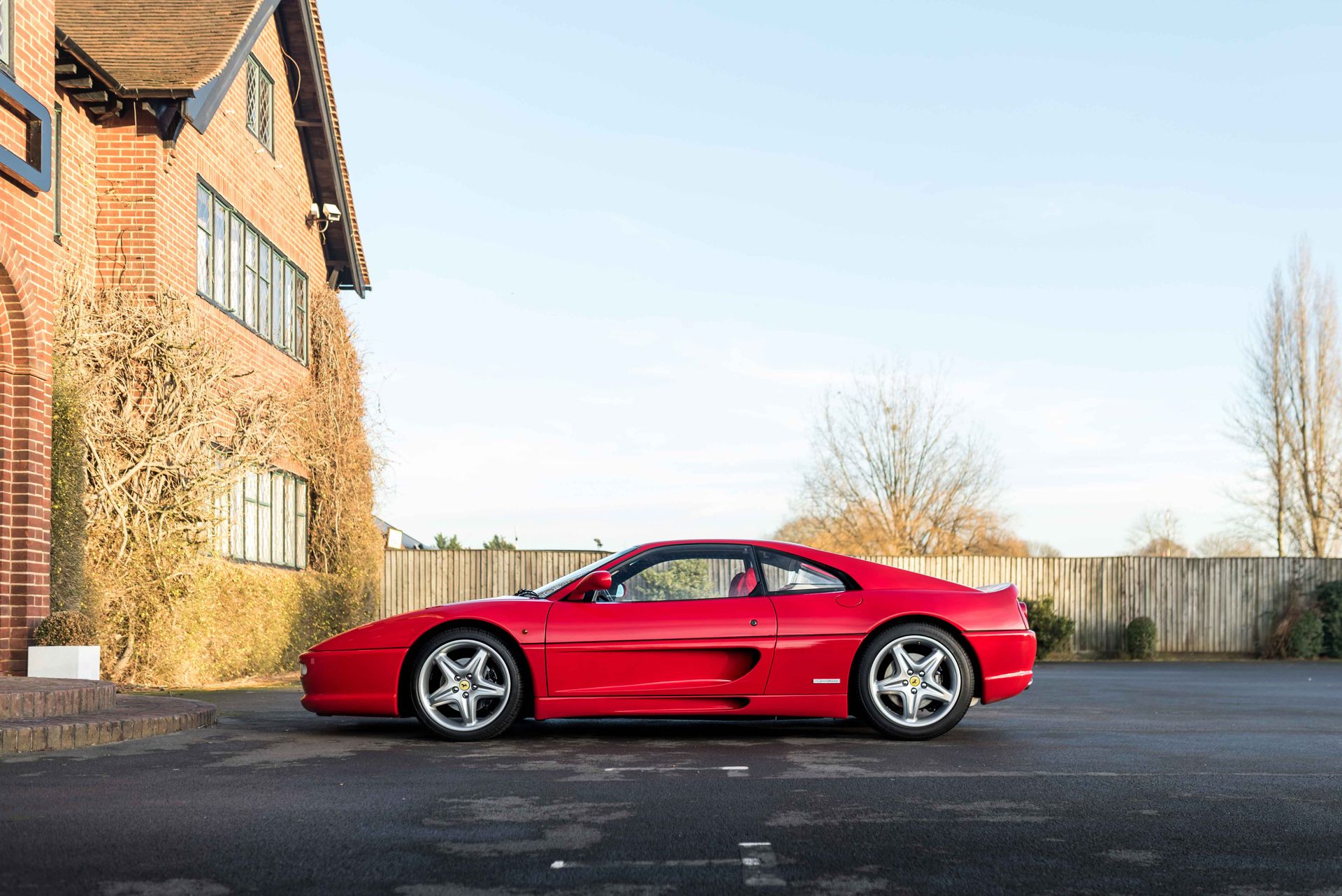 The F355 Berlinetta has an aluminium and steel body. Its styling is moulded around an aerodynamically severe design that includes a full-body undertray designed to equalise downforce (Cl) between the two axles. The cabin is designed with both safety and driving pleasure in mind. The seats and trim are Connolly leather. The chassis is a steel monocoque with a tubular steel rear sub-frame for the engine-suspension assembly. Both front and rear suspension use independent unequal-length wishbones and coil springs over gas-filled telescopic electronic dampers with two settings. The car also has anti-roll bars. The steering is rack and pinion with power-assist, and optional mechanical gear. The brakes have self-venting discs and excludable ABS ATE. The 18" wheel rims are magnesium.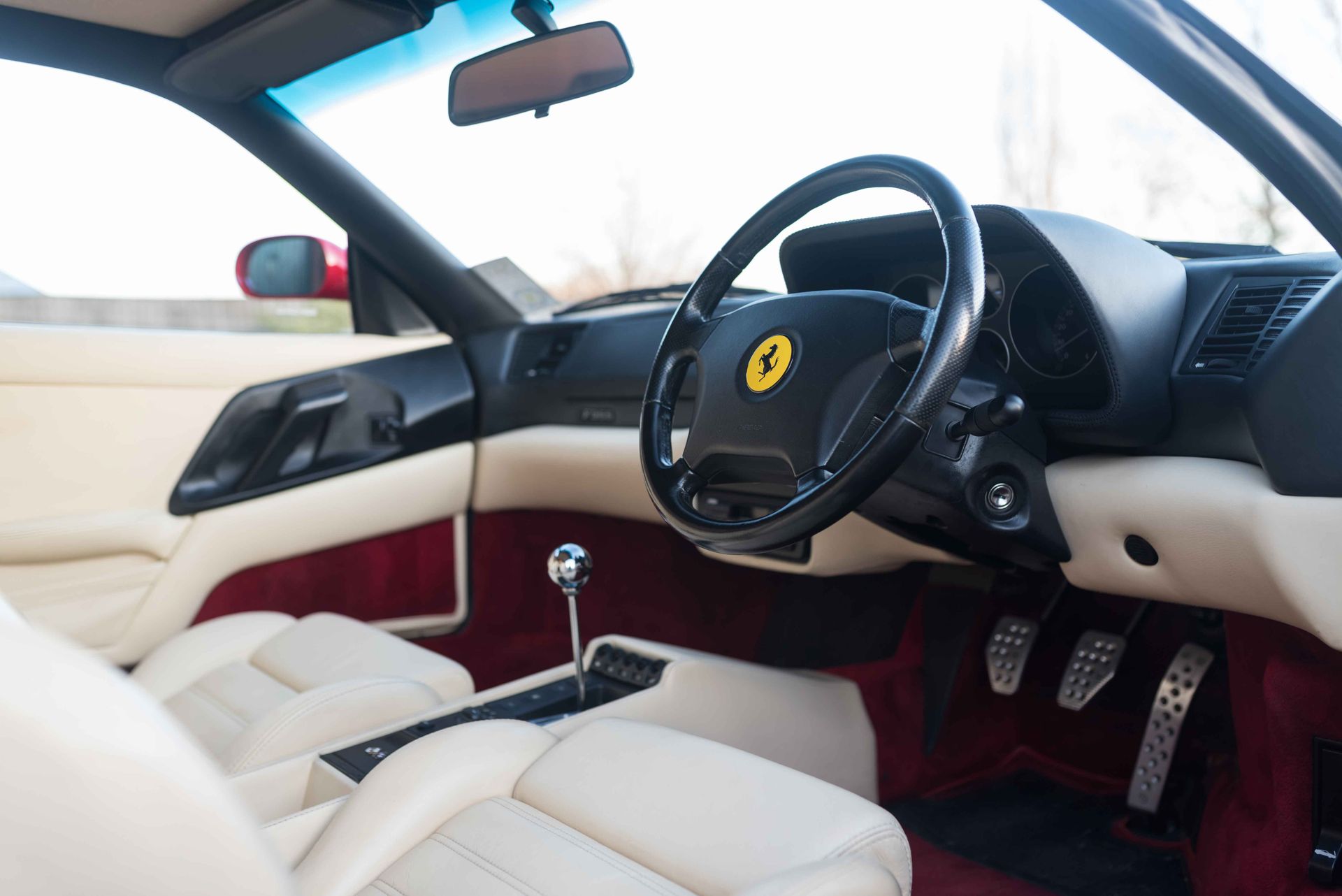 The mid-rear 3496 cc 90° V8 was longitudinally mounted and punches out 380 hp, giving it a specific power output of 109 hp/l. Distribution is by means of twin overhead cams with five valves per cylinder. The con rods are titanium, while the control unit is the Bosch M5.2. Dry sump lubrication and a six-speed plus reverse mechanical gearbox completed the picture along with a dry single-plate clutch.
In both our LA and UK workshops, we offer a Fixed Price Servicing Program for the F355 offering a simple route to servicing with all work undertaken by our factory-trained engineers.
Engine
| | |
| --- | --- |
| Type: | rear, longitudinal 90⁰ V8 |
| Bore and Stroke: | 85 x 77mm |
| Total Displacement: | 3,495cc |
| Compression Ratio: | 11:1 |
| Maximum Power: | 380hp @8,250rpm |
Chassis and Suspension
| | |
| --- | --- |
| Frame: | steel monocoque with tubular steel rear sub-frame |
| Front Suspension: | independent, unequal-length wishbones, coil springs over gas-filled telescopic shock absorbers, anti-roll bar |
| Rear Suspension: | independent, unequal-length wishbones, coil springs over gas-filled telescopic shock absorbers, anti-roll bar |
| Brakes: | discs |
| Gearbox: | 6-speed + reverse |
| Front Tyres: | 225/40 ZR 18 |
| Rear Tyres: | 265/40 ZR 18 |
| Fuel Tank: | 82 litres - 22 gallons |
Dimensions and Weight
| | |
| --- | --- |
| Type: | berlinetta |
| Wheelbase: | 2,450 mm |
| Front Track: | 1,514mm |
| Rear Track: | 1,615mm |
| Dry Weight: | 1,350kg |
Performance
| | |
| --- | --- |
| Maximum Speed: | 184 mph - 295 km/h |