+44 (0) 118 940 1101 | Mon-Fri: 8am-5pm

Secure Payment:
Worldwide Delivery Service
Ferrari 330 GTS History, Specifications and Spares | GTO Classic Ferrari Parts
330 GTS
The replacement to the 275 GTS, the 330 GTS, was designed to be an elegant, open-top, 12 cylinder Grand Tourer for Ferrari's best clients looking for the finest experience money could buy. In addition to plenty of room for two plus luggage, the 330 GTS also boasted an incredible set of performance figures. It had a top speed of 150 mph and the car could easily outpace just about any other car on the road when it was new.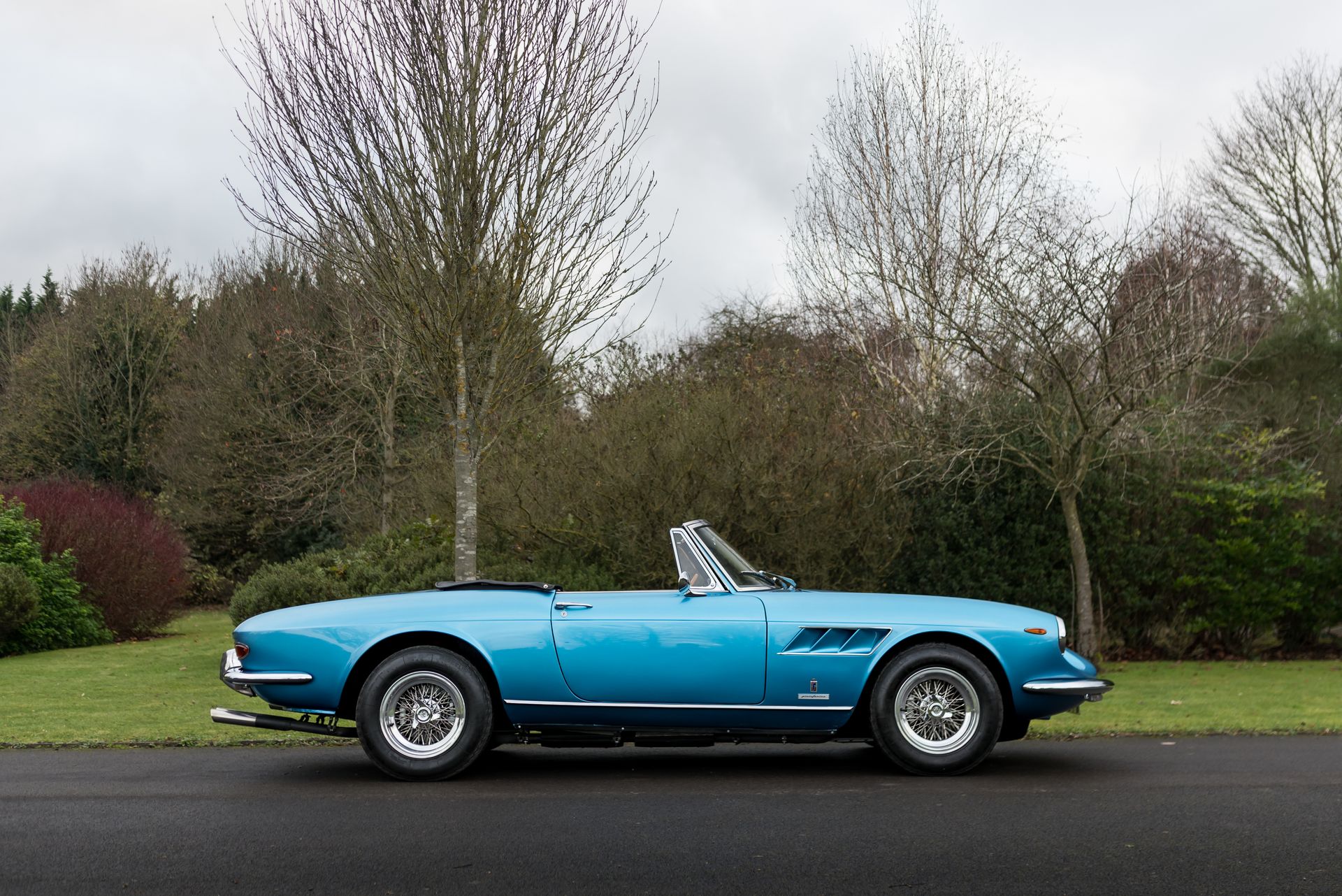 The 330 GTS was assembled at the Pininfarina works in Turin, and was then delivered fully-trimmed to Ferrari for fitment of the mechanical components, including the engine that was developed from the V12 unit designed for the 400 Superamerica. 330's were unusual for Ferrari in that they had a model badge on the boot lid, proclaiming '330′. Prior to this, a very few cars had any model identity on them.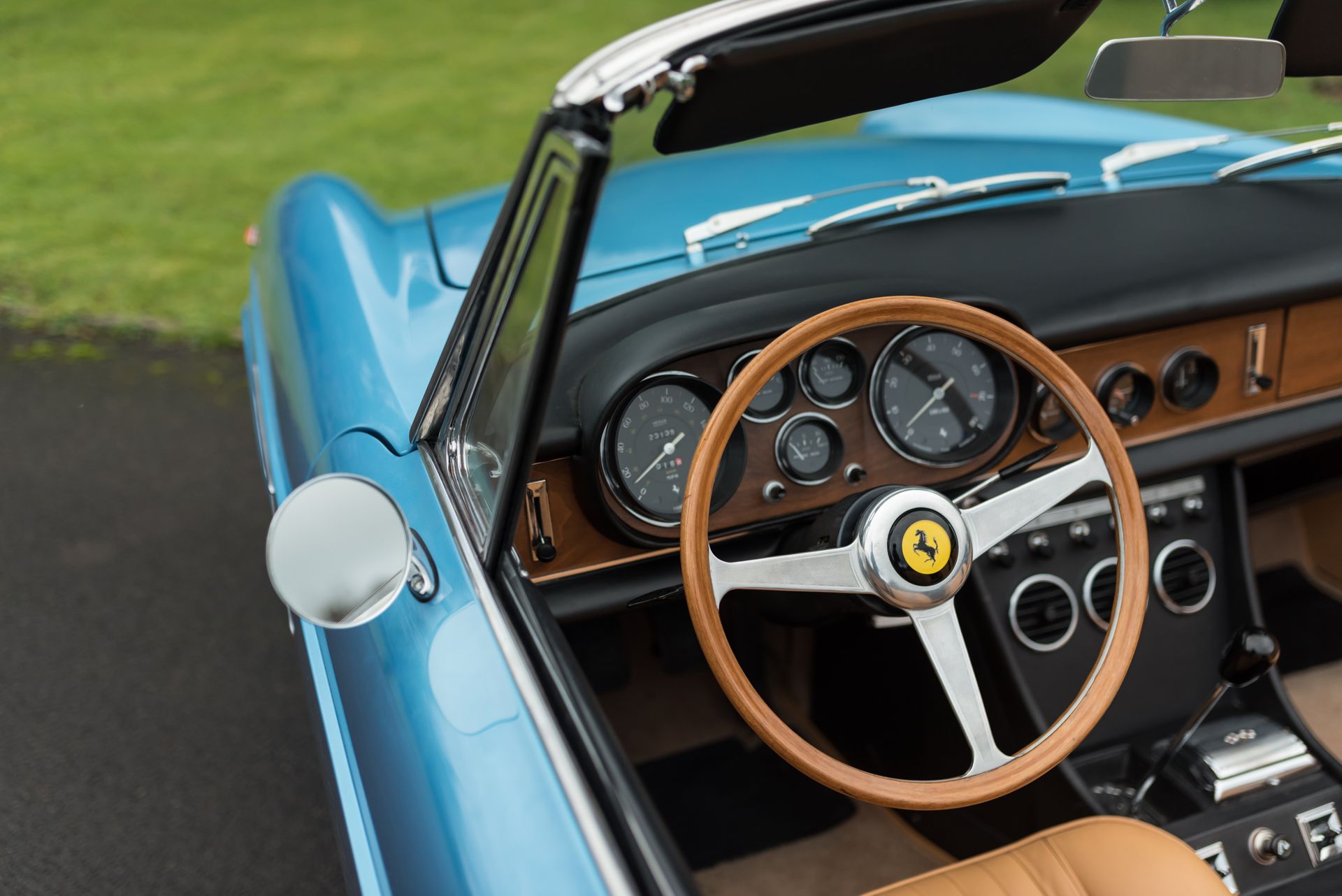 Unveiled at the Paris Motor Show in October 1966, its styling was instantly recognisable as a Pininfarina design. The 330 GTS epitomised mid-'60s Italian GT styling with its uncluttered and elegant design. From its classic nose characterised by its shallow egg-create oval grille to its triple-louvered vents on the rear flanks of the front wings and on to the seductive tapered tail. The impeccable style carried on to the car's interior, which was luxuriously appointed with leather seats and a wood-rimmed, aluminium steering wheel. With remarkably spacious proportions inside, this was the perfect place to befor a 1,000 mile road trip across Europe.
Production of the 330 GTS model continued into late 1968, when it was upgraded with a 4.4-litre engine and minor cosmetic changes, to become the 365 GTS model. It was produced in both right and left-hand drive form, in the odd number chassis sequence used at that time, and 100 examples were produced in the chassis number range 08899 to 11713.
More and more, 330 examples are now being seen in our workshops for full or partial restoration, either mechanical or cosmetic. In addition, GTO Engineering look after and maintain several 330 GTS's, storing them for clients in our secure facility near our main workshop.
Engine
| | |
| --- | --- |
| Type: | front, longitudinal 60⁰ V12 |
| Bore and Stroke: | 77 x 71mm |
| Total Displacement: | 3,967cc |
| Compression Ratio: | 8.8:1 |
| Maximum Power: | 296bhp at 7,000rpm |
Chassis and Suspension
| | |
| --- | --- |
| Frame: | tubular steel |
| Front Suspension: | independent, unequal-length wishbones, coil springs, telescopic shock absorbers, anti-roll bar |
| Rear Suspension: | independent, unequal-length wishbones, coil springs, telescopic shock absorbers, anti-roll bar |
| Brakes: | discs |
| Gearbox: | 5 speed + reverse |
| Front Tyres: | 205 x 14 |
| Rear Tyres: | 205 x 14 |
| Fuel Tank: | 90 litres – 19.8 gallons |
Dimensions and Weight
| | |
| --- | --- |
| Type: | spider |
| Wheelbase: | 2,400mm |
| Front Track: | 1,401mm |
| Rear Track: | 1,417mm |
| Dry Weight: | 1,200kg |
Performance
| | |
| --- | --- |
| Maximum Speed: | 150 mph - 242 km/h |